5 tips for optimizing your online store for local searches on Google
Local searches on Google occur when people search for businesses or services in a specific geographic location. It can range from restaurants and cafes to stores, dentists, and hair salons.
These are customers you want to attract to both your physical store and online store. In this article, we will explore how you can optimize your online store for local searches and provide you with useful tools and tips along the way.
When someone performs a local search, Google displays results tailored to the user's specific geographic location.
Eivind Nessen Tangen works in the Growth department at Maksimer. He is responsible for the analysis team and has witnessed how local searches can be optimized for online stores over the years.
He specifically explains what local searches are:
– It is primarily searches performed through mobile phones and searches combined with location names. For example, "dentist Bergen," "law firm Sandnes," and similar, he says. If you go on your phone and search for "pizza," Google will provide suggestions on where you can buy pizza near your current location.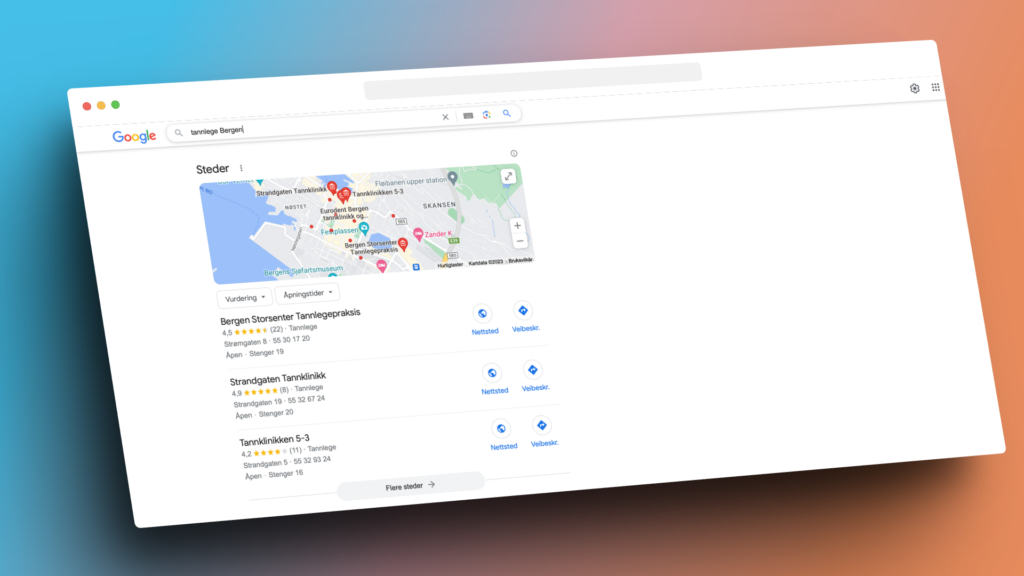 Let's explore further how potential customers in buying mode and on the go can discover your store using Google.

Create a Google My Business profile
– The most important thing you can do is to start with a Google My Business profile, says Eivind.
Google My Business, also known as Google Bedriftsprofil, is a free service from Google that allows businesses and organizations to create a profile that appears on Google Search and Google Maps.
The business profile displays information such as name, address, phone number, opening hours, photos, and reviews. It can also include a link to the company's website and social media accounts.
– Add relevant categories and the best-selling products or services to the profile. If you supplement it with active social media profiles, videos on your optimized YouTube channel, and dedicated landing pages on your online store for the keywords, Google will receive clear signals from you about what you offer. Combined with your location, this can yield good results in local searches, he says.

Create a YouTube channel
– Eivind suggests uploading simple videos about new products, offers, and campaigns.
YouTube is one of the world's largest search engines and is owned by Google. By creating videos that are optimized for local searches, you can increase your chances of being discovered by potential customers who are searching for related products or services.
– By including local keywords such as location in video titles, descriptions, and tags, you can enhance your chances of being discovered by potential customers in your local market, he explains.

Update your social media
Keep your social media accounts up to date and relevant. There is great value in linking to your articles and, especially, YouTube videos on social media.
– This ensures that your videos are seen by more people. Videos with high view counts, comments, and interactions are ranked higher by Google. In combination with specifying locations in the videos as mentioned in tip 2, this will contribute to ranking well in local Google searches, says Eivind.
He encourages publishing offers, new products, and campaigns on social media to demonstrate that you are current and relevant.
– Also, utilize the advertising platforms of different social media platforms and target local audiences, he advises.
Additionally, it can be wise to sponsor local events and activities.
– This can be highly beneficial for local brand building.

Achieve valuable feedback from your customers
Positive word-of-mouth is invaluable! Customers who provide you with good feedback will help others to discover and shop with you.
– Be proactive and request feedback from your customers through your Google My Business profile. You can easily create a link to your profile, allowing customers to leave feedback conveniently, he explains.
Eivind encourages being active and asking for feedback from customers through your Google My Business profile. If you have a physical store, you can also make it easy for customers to provide feedback by having a QR code at the cash register or on the receipt that the customer can use.
– Create a QR code using tools like Canva or other programs that link to your business profile and place it prominently at the cash register. Let customers know that you appreciate their feedback, says Eivind.
This becomes a natural way to keep your Google profile active.
– It also builds trust, as long as the feedback reflects satisfied customers.
Google doesn't prioritize the number of stars. However, positive feedback gives customers a sense of security, which often results in more clicks and increased sales.
– Natural keywords in the reviews are the most important, explains Eivind.

Utilize Google's own tools to the fullest
The use of Google's own tools like Google Posts and Google Shopping can have a positive impact on local searches in Google.
Google Posts: Google Posts is a feature that allows you to publish directly on your Google My Business profile. By using Google Posts, you can share updates, offers, events, and other relevant content directly in the search results.
– This provides you with an additional opportunity to market yourself and communicate with potential customers who are searching for your business or related keywords, explains Eivind.
The use of Google's own tools like Google Posts and Google Shopping can have a positive impact on local searches in Google.
Google Shopping: By connecting your Google Merchant Center to your Google My Business profile, you can showcase your products directly in Google search and Google Shopping results when users search for related products in your area.
– This is especially useful for businesses with physical stores that want to market and sell products locally. It can increase the chances of potential customers in the vicinity finding you when they search for relevant products on Google, he says.
He also mentions the use of Google Merchant Center as an effective way to achieve increased visibility for your store's products.
– It is a platform that allows online stores and retailers to upload product data to Google. With Google Merchant Center, you can upload detailed information about your products, such as inventory levels.
He shares a positive experience he had with this during a recent visit to the USA.
– I was looking for a specific pair of shoes in Orlando. Through a simple search on Google, I could see that they had arrived in stock at a store before they were even placed on the shelves, he explains.
How can Maksimer help you?
Maksimer has its own Growth team that assists your store with local search engine optimization.
– We systematically go through available data to get a snapshot of the current situation. Based on this, we assess what is missing and identify the actions that can yield good results in the shortest possible time. In this process, we also examine relevant competitors in the local area and uncover the competitive situation.
The methods and tools that Maksimer primarily uses are Google Ads and Google Analytics.
– Here, we find data that can be sorted and analyzed to identify what is working well and what can be improved. In Google Search Console and the SEMrush tool, we track the progress of search engine rankings, potential improvements, and any errors that can be corrected.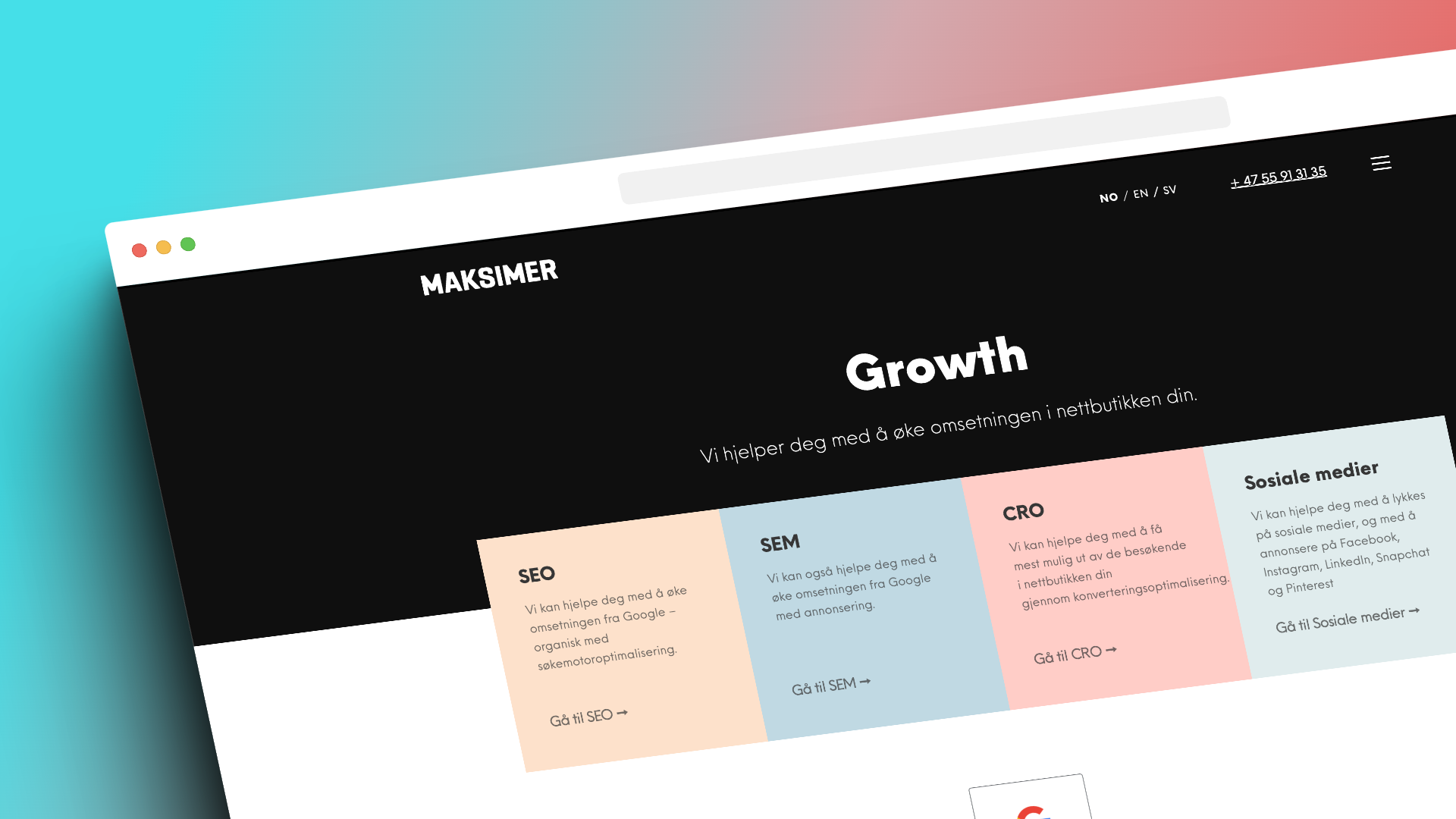 If you want the best solutions to optimize your online store, contact Maksimer today.
Contact us today to get started with local search engine optimization and higher rankings for your online store on Google.
E-mail: post@maksimer.com