WooCommerce
WooCommerce has grown to become the world's most widely used online store in a short period of time. Over 40% of all world's online stores are now running WooCommerce. WooCommerce runs as an extension in the world's largest publishing tool, WordPress.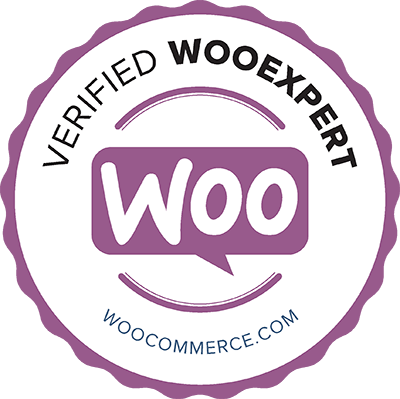 WooExpert
Maksimer was the first approved WooCommerce environment in Norway and one of the few in Europe who got gold status. Our first WooCommerce online store was set up in 2012 and we have been working with WordPress since 2009.
We provide online stores intended for sale to consumers (B2C) and online stores for sale to businesses (B2B). Everything based on WooCommerce. Contact us if you are wondering about something or want a customization / feature extension.
Integrations
We have developed integration between a variety of ERP, invoice, accounting, logistics and cash systems and WooCommerce.
More about WooCommerce
WooCommerce is as easy to use as a store manager or a costumer. WooCommerce provides developers with simple opportunities to customize functionality and design according to your needs. There is also a giant selection of plug-ins that are fully developed and can give you a shorter way to your desired functionality.
Built on WordPress
WooCommerce is an extension to WordPress. WordPress is the world's most popular publishing platform. 26% of the entire world web site is powered by WordPress.
Open source
WooCommerce is open source. This means in practice that there are no direct license costs for using WooCommerce. If you have the right skills you can download it, install it with WordPress on a server and get started yourself.
Use of extensions
Over 1000 extensions have been developed for WooCommerce. In the Norwegian context, we now see that there is a good range of extensions for the most used and necessary features:
Payment solutions often used in Norway

Nets / Netaxept
Klarna
Dibs
PayPal
Stripe
++

Freight calculation and freight matrices

The shipping costs can be calculated based on the weight and volume of the goods in the shopping cart. There are several systems for this:

Bring / Posten
DHL
PostNord
Consignor Shipadvisor

In addition, you can configure the shipping in several other ways:

Fixed shipping rate
Free shipping over a threshold
Fixed shipping based on weight / volume and recipient's address
Special cost rates per item
Combinations of fixed rates, special rates per item, costs calculation and free shipping
Tailored solutions

Integration with warehouse, checkout, order and erasystems

Subscription

A popular extension is a subscription. It makes it possible to sell items that give recurring income. For example, we have set up our customer www.bikefinder.no with this solution. Daily, weekly, monthly or annual, the user can deduct a fixed amount for the subscription.

Integrated with an accounting system like Tripletex, 24SevenOffice or PowerOffice Go you will avoiding a lot of unnecessary administrative work!
Features
Sell anything!
Physical products, digital products, vegetables, subscription and hours at the bike shop! In practice, you can sell anything!
Modular system
It is built with modules that can be enabled or disabled.
Currency
Do you sell in Norwegian kroner? Or EUR? Or maybe NOK and USD? It is support for all world currencies. With some know-how and an extension or two, you can also let the user choose a currency.
Fantastic on content!
With WordPress as a motor, working with content is a dream. You can publish cross-publishing content, you can create functional landing pages with products, shopping cart and checkout. Tag and categorize products, add attributes, and make it easy for users to find your products using search, filtering, and navigation. Only your own creativity limits the way you get content.
Coupons
Coupon codes are a great way to make promotions. The possibilities of coupons are many:
Send a coupon code that gives the customer an advantage in the next purchase in the online store
Send coupon codes to newsletters to existing customers
Give your followers on Facebook, Instagram or Snapchat their own coupon codes for promotions.
Season codes. Christmas, Easter, etc
Abandoned cart. Did someone leave their shopping cart? Send them an email after a while and give them an offer to complete.
Friend codes. Offer a code that they can give to their friends.
New to the site? Provide a first-time code, such as free shipping.
Do you use bloggers to write about your products? Offer the readers of the blog a coupon code.
Search Engine Optimization in WooCommerce
There is not a simple 3-point list that gives you a magic recipe for ranking in search engines. WordPress and WooCommerce offer, with proper setup and configuration, a good technical platform and a framework for creating content that gets ranking in search engines. One of the tools we often use is Yoast, a search engine optimization plugin in WordPress.
Order Processing
Orders are controlled by order status. Order processing can be done manually, it can be controlled by integrations to order systems or EDI solutions. Changes in order status involve sending e-mail to customers with information.
Email contact with customers
New order => Email to the customer
Order sent => Email to the customer
Note on order => Email to the customer
Order canceled => Email to the customer
Setup of transaction items is made in the admin panel.
Here we see an example of an order mail to Finn Schjølls online store, which of course runs WooCommerce :-). Here have we made some adjustments. In most of the projects we do, there is a need to customize these emails in one form or another.
No restrictions
There is no limit on the number of products, customers or orders.
What are you waiting for?
Contact us for a non-binding talk about how we can help your business with WooCommerce.
«We have been a customer of Maksimer for almost two years and we are very pleased with their focus on finding good solutions and the availability they have for us in XPLORA Mobile.»
Read more about Xplora's results with us